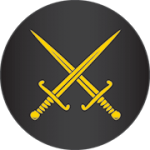 The Marshallate
The thrown weapons deputy position is open, and resumes are being accepted.
The Kingdom Thrown Weapons Officer reports to the Earl Marshal and is the principal officer in charge of organizing and maintaining the thrown weapons program and marshallate.
The responsibilities and duties of this deputy, as described by the current Book of Target are:
III.7. If you are warranted as the Kingdom Thrown Weapons Officer:
a. You must be an authorized senior thrown weapons marshal for a minimum of two years prior to taking the office. (The Kingdom Earl Marshal may waive the time limit.) Appointments are made by the KEM with input from the Crown.
b. You must properly complete a Change of Officer form when you initially take office, and send this to the Kingdom Earl Marshal and the Martial Authorization Officer. (Form #14)
c. You have primary responsibility for overseeing target thrown weapons activities throughout An Tir. Per Kingdom Law this includes encouraging the development of those activities by creating and enforcing rules for equipment, and the authorization and safe & chivalric conduct participants and marshals, within the parameters set by the Society Earl Marshal's office
d. As the Thrown Weapons Officer you will communicate with branch marshals about rules changes, the status of thrown weapons activities in An Tir, and any challenges faced by participants or marshals. The Thrown Weapons Officer works closely with the Kingdom deputies from other martial disciplines to create consistency in administrative rules, and to coordinate on other topics as appropriate.
e. You must complete a quarterly report to the Kingdom Earl Marshal on the state of thrown weapons activities in the Kingdom. This includes summarizing the reports that you get from all of the branches in An Tir. You must also send a report about An Tir's target activities to the Society Archery Marshal. See item (2) for when these reports are due.
f. You must complete any other reports that the Kingdom Earl Marshal or Society Archery Marshal require.
g. Answer correspondence from the marshals of An Tir.
h. You must review the An Tir Book of Target every two years to verify that it matches with the Society's standards and agreed upon An Tir practices. New editions of this document must be signed by the Royal Archer, Kingdom Thrown Weapons Officer, Kingdom Earl Marshal, and the Monarchs.
The deputy is expected to attend every Crown event to report to the marshal community.
Interested parties should submit their resumes to the Kingdom Earl Marshal by May 1st, at earlmarshal@antir.org