Hosted By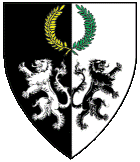 The Barony of Lions Gate (Vancouver, BC )
Event Summary:
Date: November 21 , 2020
Site opens at: 12:00 AM on November 21th 2020
Site closes at: 12:00 AM on
---
This is a Level 1 event.
Baroness' Heavy Tournament:
This tournament is open to any fighter who is not a member of the Order of Chivalry. Each entrant is to bring a prize for the prize table and after the tournament, each entrant will walk away with a prize.
Baroness' Rapier Tournament:
Open to all rapier fighters. Format will be determined by rapier MiC depending upon number of entrants.
Gerhard's Riposte Tournament:
Open to any rapier fighter who has been authorized for less than 1 year. Entrants should have a more experienced patron to sponsor them into the tournament.
Youth Armoured Combat Tournament:
Youth armoured combat or YAC, is the youth version of the adult heavy combat program. This tournament determines the Lions Gate Youth Champion!