Hosted By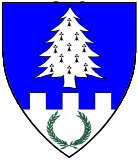 The Shire of Tymberhavene (Coos & Curry Counties, OR )
Event Summary:
Date: September 25 , 2020 until September, 27 2020
Site opens at: 12:00 PM on September 25th 2020
Site closes at: 3:00 PM on September 27th 2020
---
This is a Level 1 event.
Come celebrate the 15th anniversary of the camping trip that started it all in Tymberhavene.
There will be champions determined in Cut and Thrust, Rapier, and Bocce Ball,. Feasting and Merriment will be had. Come celebrate another year of Tymberhavene!