Event Steward: Dana Chathair Saibhin
Hosted By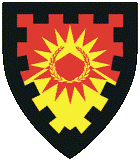 The Barony of Vulcanfeldt (Yakima County, WA)
Event Summary:
Date: September 18 , 2020 until September, 20 2020
Site opens at: 3:00 PM on September 18th 2020
Site closes at: 3:00 PM on September 20th 2020
---
The site is a large, flat, open field, with a gravel road in, no electricity, no water, fires subject to the usual restrictions and highly dependent on local conditions at the time (check back here).  Discretely damp.  Pets must be on a leash at all times & owners are responsible to pick up after them.
Accessibility Information
Not a lot can be done to adapt this unimproved site, but feel free to contact the steward in advance and we will see if there is anything our event team can help you with.
Site Fees
Fee Type
Cost*
Adults
$25
Children (17 and under)
Free
Make checks payable to: Barony of Vulkanfeldt, SCA, Inc. 
 
*SCA Members will receive a $5 member discount off the cost listed above.
Tournament Information
Candlelight shoot on Friday night.  Distance Shoots: York, Clout and Flight!  Royal Rounds Range open all day.  "Light You're Dead" will be shot in pairs this year (shooting Floo Floo arrows at a moving bear target).  Baronial Protector Championship!  The OGGS has been invited to offer the event team Novelty Shoots to choose from (as much fun as we can fit into the time and space will be selected).  For example; Archos Andras Truemark will provide a Castle/Slot shoot!  A "castle wall" complete with archery slots is put on a platform and numbered targets are placed at random distances and archers are timed shooting them in numerical order.  Equestrian Archery is on the menu again this year!  Don't miss it!  
Other Missile Activities Possible (if interest & volunteers): Thrown Weapons, Atl atl, Darts, Siege Weapons
Youth and Family Activities
Children's Archery, Youth Protector Championship Tourney
Volunteer Information
Target Archery Marshals (bring your current TAM card) are always needed.  Other missile activities like Thrown Weapons, etc. only happen with volunteers.
Classes Offered
No classes; however, an Archery Related Arts & Sciences Competition will be held (items should be created for use or relevant to any of the archery/missile activities listed above.  Documentation encouraged.
Largess:  Fab Four Largess Competition, winner chosen by populous; items do not need to be period, just useful, hopefully hand-made and small enough to fit in a haversack, please.  
---
This page was last updated: February 18, 2020
This event has completed its EIF form
This event's waivers have NOT been marked as received by the Senechal's Waivers Deputy