Hosted By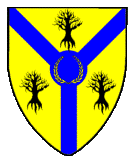 The Barony of Wyewood (South King County, WA)
Event Summary:
Date: August 15 , 2020
Site opens at: 12:00 AM on August 15th 2020
Site closes at: 12:00 AM on
---
This is a Level 2 event.
The Barony of Wyewood invites you to come compete for the privilege of being a Champion of Wyewood. All competitors will be expected to declare their intentions to compete at opening court (10am) and be willing to swear an oath of fealty or service, if they should be victorious, at closing court (5pm). Competitors are required to be current SCA members, but they do not have to reside in the borders of Wyewood to be a champion. Those interested in competing, but are a champion of a different branch, should contact and confirm with their Excellencies (wyewood.coronet@antir.org) by August 1st, 2020.