Hosted By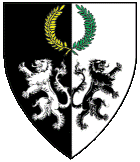 The Barony of Lions Gate (Vancouver, BC )
Event Summary:
Date: May 30 , 2020
Site opens at: 8:00 AM on May 30th 2020
Site closes at: 5:00 PM on
---
This is a Level 2 event.
Champion Tournaments for the Barony of Lions Gate. Champions will be chosen in Archery, Armoured Combat, Rapier, and Thrown Weapons. All challengers are summoned to vie in single combat for the right to be named Champions and stand by their Dread Baron in times of war.