Hosted By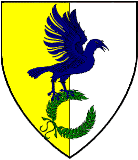 The Shire of Corvaria (Bend, Jefferson, Deschutes, & Crook Counties, OR )
Hosted By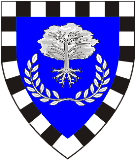 The Shire of Myrtle Holt (Josephine County, OR )
Event Summary:
Date: April 11 , 2020
Site opens at: 12:00 AM on April 11th 2020
Site closes at: 12:00 AM on
Event site:
Redwood Grange 1830 Redwood Ave Grants Pass, OR 97527
Click here for more information about this location such as site amenities, rules, and restrictions.
---
This is a Level 1 event.
This is a combined event between MyrtleHolt St. Eggbert's Feast and Corvaria's All Fools event. We are planning on alternating each year between Grants Pass and Bend to promote attendance and improve fun and feasting with our brothers and sisters in Bend included.
The story of St. Eggbert
of the chickens:
Eggbert was born, the third son of a fowler at
Hennford, England in the year 402 AD.  The local priest taught
him letters when he was seven. He bacame a wandering monk preaching
to any listener.  He used a hens egg to explain the Trinity
and while happily dining on roasted fowl said:  "if thy right
wing offend thee then then pluck it off."  Eggbert was a pious
but odd man often sleeping in hen houses.  One night, fierce
vikings raided the small hold.  Eggbert, half asleep in the
coop was beaten to death by a huge Dane wielding a pair of pilfered
cocks. 
The Shire of Myrtleholt celebrates St.
Eggbert's Feast, because many years ago the Shire was given a
mystical sign.  There had been a feast wherein all meats were
poultry.  After this feast shire members exhibited red itchy
rashes, fevers and swelling of the bodies – all indicative of the
Pox of Henne.  Superstitious mutterings causes one Lady to
even change her name from "de Poullet" to "de Faucon".  The
plague caused people to look to heaven for help.  A story was
circulated about the man called Eggbert who seemed a Saint.  A
large statue of a rooster was located in a nearby village. Plague
victims and survivors made pilgrimage there to beseech Eggbert to
end the plague.  They honored him with a feast in the Spring.
 The Plague of Henne was gone.
It is time to celebrate the feast of St. Eggbert. Time to compete for the ultimate Arts and Sciences championship. This is a combined Corvaria/MyrtleHolt event. Come join us for fun, feasting and competition. If it is rapier you are interested in, we will have that too. More than one championship and a weird rapier tournament…so come and have fun with us and feast on our delectable dinner. Are you a Bard…well there is a Bardic championship too…something for everyone. Come and join us.
Rapier "Weird Styles" Tournament: All proceeds benefit the Summits Travel Fund. The tournament is held like any other rapier double elimination tournament- the twist is that the audience has an opportunity to buy a change to the fight. Want to see some one fight with using a teddy bear as an off hand weapon? Or make someone fight with a pool noodle? Want to make it so that double kills are destructive? You choose the amount you want to donate to buy the change or to counteract the change another donor made!