Hosted By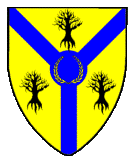 The Barony of Wyewood (South King County, WA)
Event Summary:
Date: March 21 , 2020
Site opens at: 12:00 AM on March 21th 2020
Site closes at: 12:00 AM on
Event site:
Millennium Room in Auburn's Les Grove Park 808 9th Street SE Auburn, WA 98002
Click here for more information about this location such as site amenities, rules, and restrictions.
---
This is a Level 2 event.
Once again the Barony of Wyewood invites all to join us in our annual Feast of Saint Bubba. Alarich and Aline, our esteemed Baron and Baroness have proclaimed a day of dance, fencing, Arts & Sciences, and, naturally, feasting! Significantly, Wyewood's first Bardic Championship shall be held! The merriment shall include a dance class with a presentation during the feast. There shall be a silent auction for a new Baronial kneeling cushion. The details for fencing and the classes are still developing. And the selections for the feast shall represent the foods encountered by Bubba on his many travels. Please join us for a frolicsome day of diverse enjoyments!