Hosted By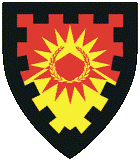 The Barony of Vulcanfeldt (Yakima County, WA)
Event Summary:
Date: February 1 , 2020
Site opens at: 12:00 AM on February 1th 2020
Site closes at: 12:00 AM on
Event site:
Kittitas Valley Event Center – Manastash Rm/Heritage Ctr 901 E 7th Ave Ellensburg, WA 98926
Click here for more information about this location such as site amenities, rules, and restrictions.
---
This is a Level 2 event.
The Barony of Vulkanfeldt is in need of a new Rapier Champion! Our current champion has served us well, and seeks to provide another with the opportunity to fill his valiant shoes. Do you have the mettle to raise your steel and vie for Rapier Champion? If so, we would love to see you at our Rapier Champion Tourney and celebratory Masqued Ball. Not interested in fighting? The Barony of Vulkanfeldt wishes to find a new A& S Champion as well, do you have the artisan wares to enter? Please join us for a day full of fighting, dancing, and noshing! Please bring your own feasting gear.
More information to come soon!