Hosted By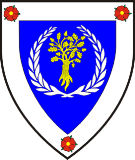 The Shire of Briaroak (Roseburg, Douglas County, OR )
Event Summary:
Date: February 1 , 2020
Site opens at: 12:00 AM on February 1th 2020
Site closes at: 12:00 AM on
Event site:
Umpqua Community Center 806 Hubbard Creek Rd Umpqua, OR 97486
Click here for more information about this location such as site amenities, rules, and restrictions.
---
This is a Level 1 event.
Come join us for a day of fun, fighting, and frivolity. We will be holding our annual Carlos of Briaroak Memorial Prize tourny, championships for rapier, Arts and Sciences, and Bardic. Also, interesting classes will be held throughout the day as well as activities for the "littles" A delicious feast will end the event. Birl will be held at the Umpqua Community Center, 806 Hubbard Creek Rd, Umpqua , Oregon. Gate will open at 10:00. Site fee will be $25 with a $5 member discount. 17 and under are free.