Event Steward: Solbella haTayeret
Hosted By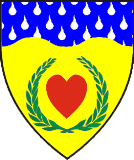 The Shire of Coeur du Val (Corvallis, Benton County, OR )
Event Summary:
Date: November 16 , 2019
Site opens at: 9:00 AM on November 16th 2019
Site closes at: 9:00 PM on
Event site:
Boy Scout Lodge T3 Cabin 1986 SW Allen Street Corvallis, OR 97333
Click here for more information about this location such as site amenities, rules, and restrictions.
---
Come one come all to a marvelous day of A&S!
We are hosting an event that can be described as a mini collegium!
We will have a lunch day board
Competitions
Artisan Displays
LOTS OF CLASSES!
Great event for new folks as well as those of us up for learning something new!
When: November 16th 9a-9p
Where: Troop 3 Cabin 1970 Southwest Allen Street Corvallis, OR, 97333
Price: $20.00- $ 5.00 discount for members
Event Website:
https://stitchnthymecdv.weebly.com
Site Fees
Fee Type
Cost*
Adult
20.00
17 or younger
0.00
 
 
*SCA Members will receive a $5 member discount off the cost listed above.
Meal Information
Monetary donations are always welcome!
Sideboard to include:
Main
Vegetable Soup- GF and Vegan Friendly
Chicken Noodle Soup- Chicken, Veggies, Egg Noodles, and Spices
Chili- Home made chili with 5 different beans, ground beef, veggies, and Seasoning
Salads
Basic Side Salad- Your choice of dressings
Cut veggies
Bread
French Bread
Corn Bread
(butter available)
Drinks
(available all day)
Hot Coffee
Hot Tea- variety
Iced water
Iced Lemonade
Tournament Information
Half Dozen Largess Competition: 
Greeting Creators!
The Dirty Half Dozen Donation Derby was created as a way to encourage the creation of Largess through friendly competition.
The way it works is that entrants create 6 items based on a theme… the theme is up to the entrant. It could be anything from 'stuff I made on Monday nights' to '13th Century Germanic Ladies Accessories'
the primary rule is:
items must be tagged and ready to be given out as largess immediately
Happy Creating!
Artisan Display: 
Greetings!
Calling all artisans! There will be an A&S display at "whatever" event. All artisans  who would like to display WHATEVER A&S project they are working on, have just started or completely finished, please bring those items to the event. The items will be on public display from 11: 00 on Saturday. Documentation of any kind is not mandatory but may be displayed along with the item if the artisan deems it appropriate. If you would like advice, comments or complements on your items, please feel free to bring a notebook for others to write in!
A&S Prize Tourney:
Wanting to start your journey towards entering more prestigious competitions? Do you have Summits Alpine Scholar as a goal? Do you wanna get feedback on your big project of the year? Voted on by the populace and also judged by local creators.  Prize to be announced Shortly. 
Silent Auction:
CdV Proudly presents an auction of gently used items and garb to help assist in us being able to continue to use the our fighter practice facility. Please feel free to donate items or money as you are able!
Classes Offered
Class Room 1
Sewing/ Garb
9:30am- Intro to Garb with Viscountess Suvia
11:30am- Mongolian Dels with Malek of Samarqand
2:30pm- Armour Patterning with Malek of Samarqand
4:30pm- Mongolian hats with Solbella haTayeret
Class Room 2
Accessories
10am- Making Haversacks with Tessina Felice Gianfigliazzi
3pm- Norse Wire Weaving with Aeowyn rindill
4:30pm- Bayoux tapestry with Viscountess Diana deWinterton
Class Room 3
Lectures
9:30am- "A Critical Thinking Approach to Research, Project Development, and Documentation in the SCA"with Kaðlin in Stórráða
10:30am- Outlines and citation managers OH MY! Tricks to calm the chaos and smooth your writing process. with Kaðlin in Stórráða
2pm- Dyes and Colors in History with HL Claire le Deyare
Class Room 4
Bardic/ Heraldry
2:30pm- Intro to Fretted Zithers with Khanzara of Samarqand
7PM- (hosted in main meeting room) Ottoman Jam Session with Khanzara of Samarqand
---
This page was last updated: November 14, 2019
This event has completed its EIF form
This event's waivers have NOT been marked as received by the Senechal's Waivers Deputy