Hosted By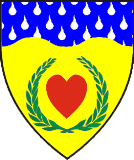 The Shire of Coeur du Val (Corvallis, Benton County, OR )
Event Summary:
Date: November 16 , 2019
Site opens at: 9:00 AM on November 16th 2019
Site closes at: 9:00 PM on
Event site:
Boy Scout Lodge T3 Cabin 1986 SW Allen Street Corvallis, OR 97333
Click here for more information about this location such as site amenities, rules, and restrictions.
---
Come one come all to a marvelous day of A&S!
We are hosting an event that can be described as a mini collegium!
We will have a lunch day board
Competitions- TBA
Artisan Displays
LOTS OF CLASSES!
Great event for new folks as well as those of us up for learning something new!
When: November 16th 9a-9p
Where: Troop 3 Cabin 1970 Southwest Allen Street Corvallis, OR, 97333
Price: $20.00- $ 5.00 discount for members
More information coming soon!
Event Website:
https://stitchnthymecdv.weebly.com