Hosted By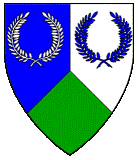 The Canton of Bearwood (East Snohomish county, WA )
Event Summary:
Date: November 9 , 2019
Site opens at: 12:00 AM on November 9th 2019
Site closes at: 12:00 AM on
Event site:
Snohomish Masonic Center 602 Ave. B Snohomish, WA 98291
Click here for more information about this location such as site amenities, rules, and restrictions.
---
This is a Level 2 event.
Join the Canton of Bearwood before hibernation sets in at their Pre-Hibernation Feast.