Event Steward: Dunstan M'Lolane
Hosted By



The Kingdom of An Tir (Oregon, Washington, Northern Idaho, and British Columbia)
Event Summary:
Date: October 25 , 2019 until October, 27 2019
Site opens at: 3:00 PM on October 25th 2019
Site closes at: 3:00 PM on October 27th 2019
---
This is a Kingdom Level event.
The Barony of Glymm Mere in Olympia, Washington proudly hosts the fourth annual An Tir Collegium. This event provides Saturday lecture tracks and selected workshops Friday and Sunday. Revel in the performing excellence of An Tir's bards at the annual Bardic Champioship. Collegium is for everyone, those contemplating their first sewing project, those honing their research in preparation for the Kingdom Arts & Sciences Championship, and for all in between.
Site location:  Hotel RL Olympia
2300 Evergreen Park Drive, Olympia, WA 98502
Phone Reservations:  1-800-REDLION (1-800-733-5466) and reference the group code:  SOCA1025

Online Reservations:   https://www.redlion.com/group-booking?property=6116&start=2019-10-25&end=2019-10-27&group=SOCA1025
This event includes the following activities and/or services:
Royal Presence - King
Royal Presence - Queen
Royal Presence - Heirs
Royal Presence - Summits
Royal Presence - Tir Righ
Has Classes
Has an Heraldic consultation table
Offers Youth & Family activities
Has Heavy Fighting activities
Has Bardic activities
Has Arts & Sciences activities

---
Add all events from Glymm Mere to your personal calendar (ical format)
Registration Information
Event pre-registration is now open! Please pre-register here
Event Schedule
Friday Event Schedule: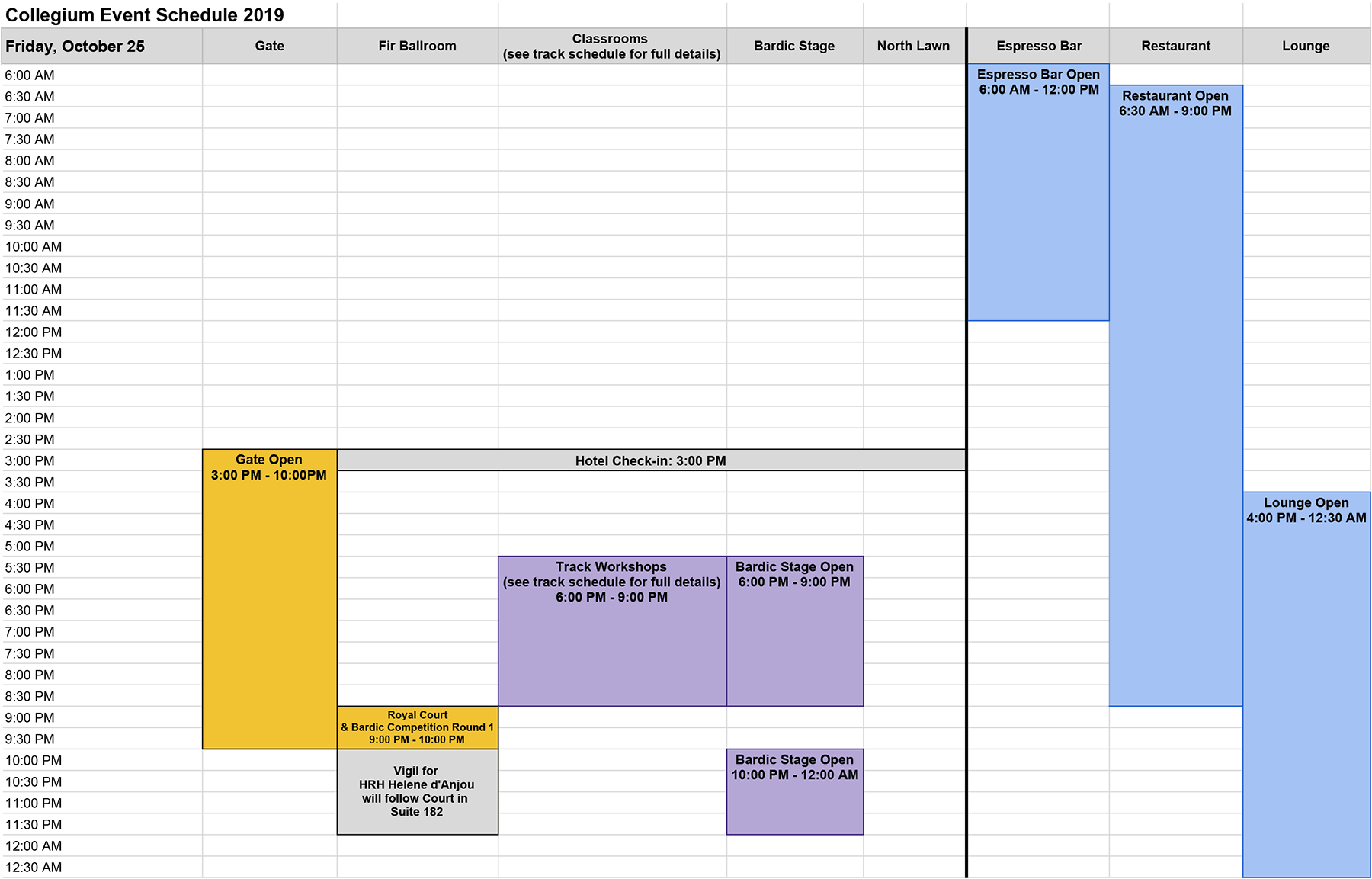 Click image for a larger view or download the
PDF version.
Saturday Event Schedule: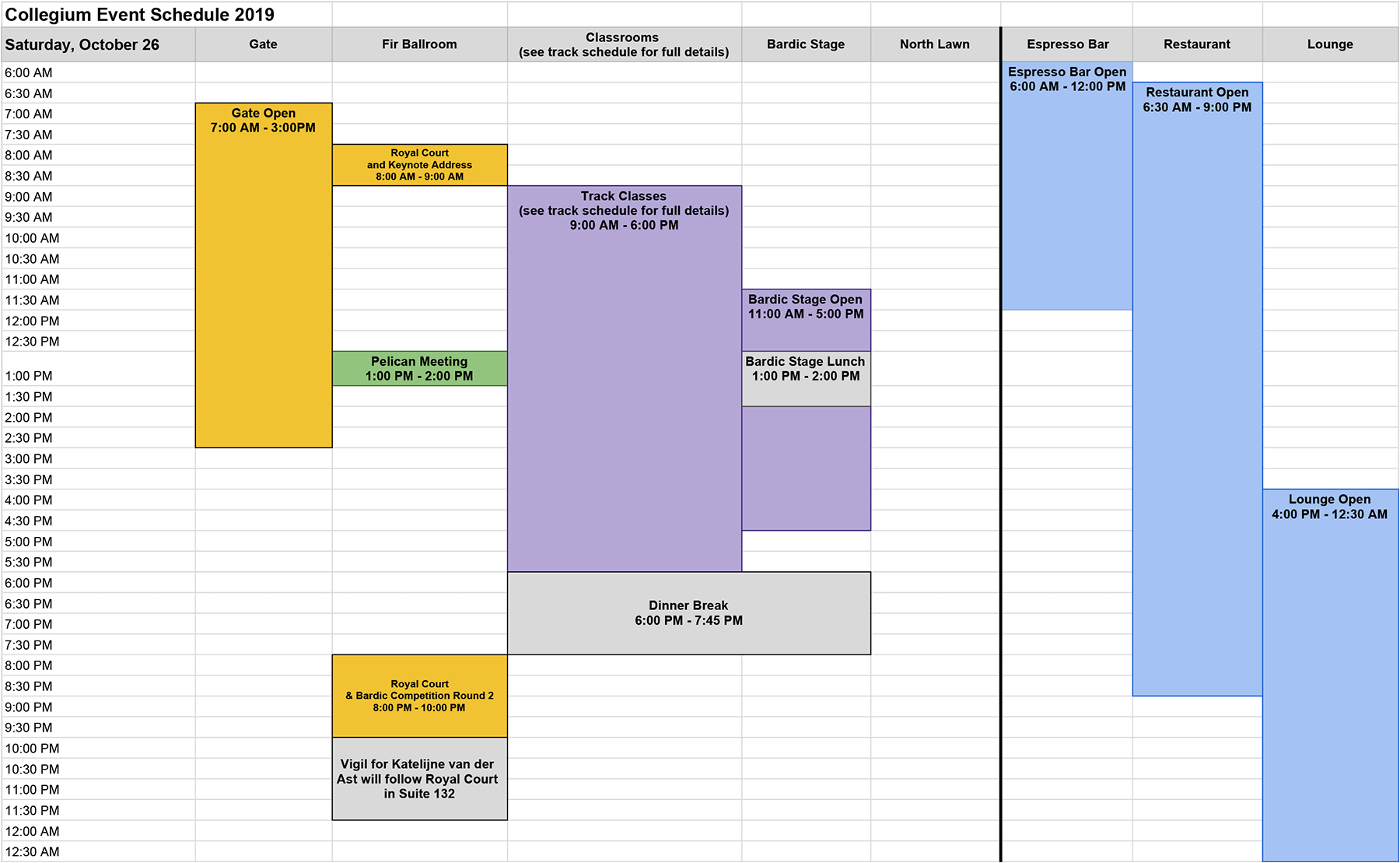 Click image for a larger view or download the
PDF version.
Sunday Event Schedule: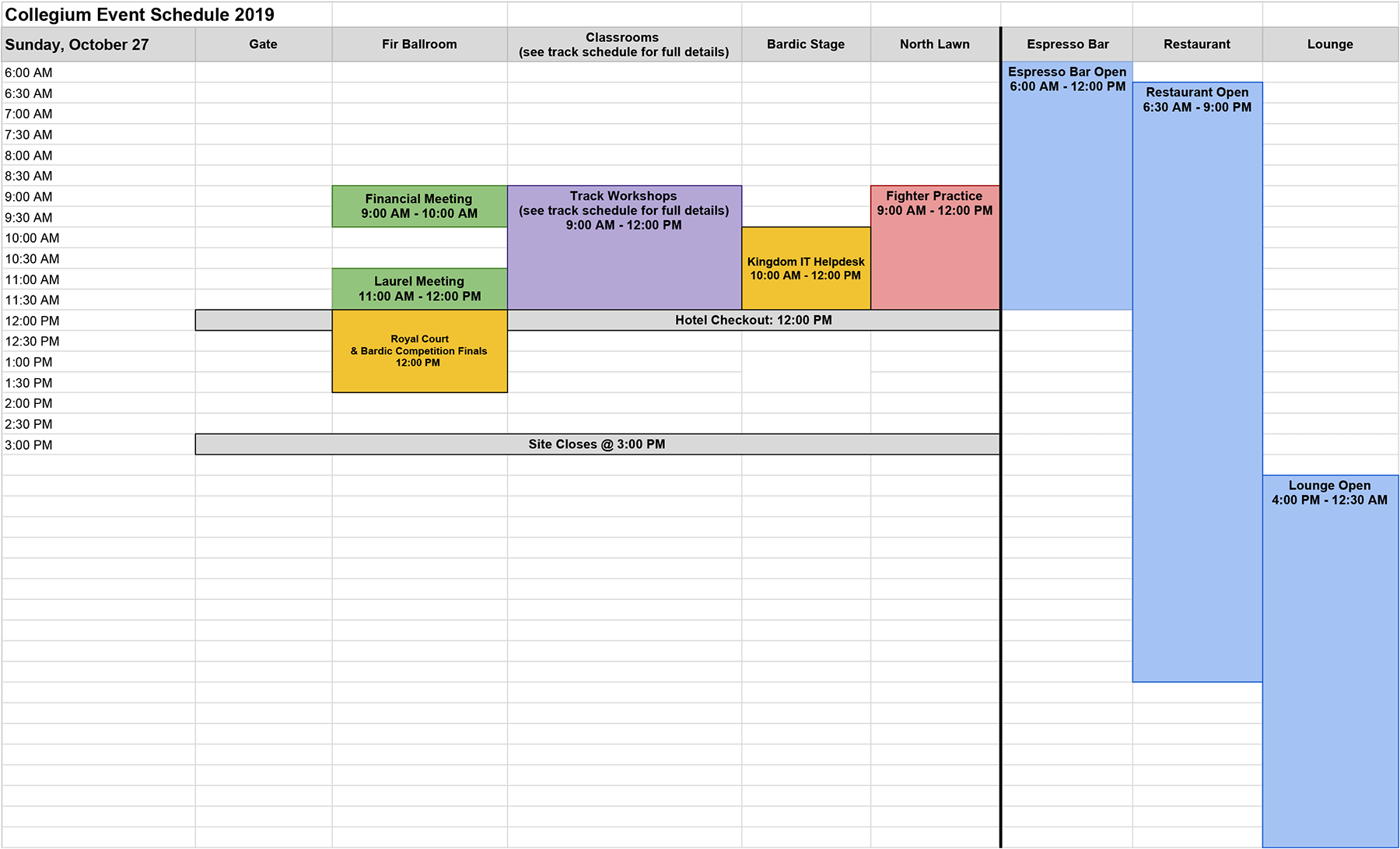 Click image for a larger view or download the
PDF version.
Class Track schedule is available here!
Meal Information
The hotel has an Espresso Bar, Full Restaurant, and a Lounge. Opening hours for these are on the Event Schedule above.
A Grab-and-Go Lunch Option will be available on Saturday for $6 – $15 (includes sales tax). See the Grab-and-Go lunch menu here
Tournament Information
More details about entry into the Kingdom Bardic Championship may be found here.
Youth and Family Activities
This year, for the first time we will have an entire track for Youth at Collegium! Many of the classes in other tracks also welcome youth participants. Please read the class information to determine if a class would be a good fit for your child.
Volunteer Information
There will be plenty of opportunities for those who wish to help.  Please consider helping at Gate.  You can sign up at https://docs.google.com/spreadsheets/d/17AS1qNs1oMaCuY-8zTl8szKpe876PcsAipNadXKbf68/edit#gid=0.
Merchant Information
Unfortunately, due to space considerations and the number of classes, there is insufficient space to host Merchants this year.
Classes Offered
Classes and Workshops are planned for Friday evening from 6:00 PM – 9:00 PM and from 9:00 AM – 6:00 PM on Saturday. Workshops and fighter practice are planned for Sunday morning 9:00 AM – 12:00 PM
Class Track schedule is available here!
---
This page was last updated: October 22, 2019
This event has completed its EIF form
This event's waivers have NOT been marked as received by the Senechal's Waivers Deputy