Hosted By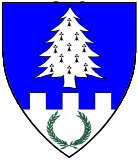 The Shire of Tymberhavene (Coos & Curry Counties, OR )
Event Summary:
Date: September 27 , 2019 until September, 29 2019
Site opens at: 3:00 PM on September 27th 2019
Site closes at: 12:00 PM on September 29th 2019
Event site:
West LaVerne County Park NSA Coquille, OR 97423
Click here for more information about this location such as site amenities, rules, and restrictions.
---
This is a Level 1 event.
This is the annual celebration of the founding of Tymberhavene – Where our champions of Heavy Armored Combat, Rapier, Cut and Thrust, and Bardic will be determined.
West Laverne Park Group Area
NSA
Fairview Road
Coquille, OR 97423