Hosted By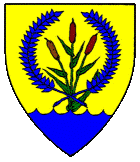 The Shire of River's Bend (Kelso & Longview, Cowlitz County, WA)
Event Summary:
Date: August 23 , 2019 until August, 25 2019
Site opens at: 12:00 AM on August 23th 2019
Site closes at: 12:00 AM on August 25th 2019
Event site:
Wahkiakum County Fairgrounds 16 Fairgrounds Rd Skamokawa, WA 98647
Click here for more information about this location such as site amenities, rules, and restrictions.
---
This is a Level 2 event.
William Tell XXXIV
August 23-25, 2019
Shire of River's Bend
Kelso & Longview-Cowlitz County, WA
Event Steward: Artuir the Rogue (Ian Stredwick), 360-560-0780, istredwick@msn.com
Site Fee Weekend: Non-member Adult $20, Discounted adult member $15; Children under 18: Free;
Site Fee Day Trip: Non-member Adult $15, Discounted adult member $10
10'x10' Horse Stall rental for camping: An additional $15 for the weekend and located across from the Covered Arena. Please RSVP if you would like to use one of the stalls.
Make checks payable to "Shire of River's Bend, SCA, Inc."
Merchants are welcome!
Site opens at 12 PM on Friday, August 23rd, 2019 and Site closes at 4 PM on Sunday, August 25th, 2019
Activities to include archery and thrown weapons competitions, bocce, Scottish rules croquet, children's events, and more. Details and schedule on Kingdom calendar and shire event page.
Site information:
Wahkiakum County Fair Grounds
16 Fairgrounds Rd
Skamokawa, WA 98647
Directions to Site: Take I-5 North or South to exit 36, Follow the signs to West 432/west 4/Longview/Long Beach and merge onto West 432 towards Longview for 2.7 miles to the 3rd Ave. exit, at the bottom of the ramp turn left onto 3rd Ave. for .5 miles, and get into the right lane, turn right at the next light onto West 432/Industrial Way, Continue on this for 7.1 miles to West 4/Ocean Beach Hwy., turn left at the stop light towards Cathlamet/Long Beach. Continue on West 4 for 26.2 miles to East Valley Rd., turn right just before the bridge, take the first left onto Fairgrounds Rd. Signs will be posted once you get to East Valley Rd. in Skamokawa, WA. Google says it is 37.2 miles and takes about 45 minutes from I-5.