Hosted By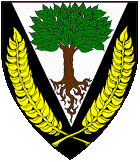 The Barony of Madrone (King County, WA )
Event Summary:
Date: July 13 , 2019
Site opens at: 11:00 AM on July 13th 2019
Site closes at: 7:00 PM on
Event site:
David Rodgers Park 100 W. Raye Street Seattle, WA 98119
Click here for more information about this location such as site amenities, rules, and restrictions.
---
On Saturday, July 13, come to the 40th Annual Peasant's Revel! Celebrate 40 years for one of the Barony of Madrone's most beloved events. Join in chasing the cheese at the only cheese-rolling to take place in North America (as far as we know.)
David Rodgers Park on Queen Anne Hill in Seattle is the site for our traditional day of being peasants. Join the ancient rivalry between Bourton-on-Water and Sodbury, our two peasant villages, as they once again compete to show their worth. Rally with your fellow villagers to settle the border dispute and set the boundary stone to benefit your village.
There is no court. The only meetings are with new and old friends. This is a great event for newcomers. Garb to borrow will be available.
Join the traditional peasant games and pastimes. There will be games and activities for children. Tell stories of past Peasant's Revels you have attended. Prizes are given for best Being Dressed Like a Peasant, Gurning, Turnip Carving, and more. Traditional activities include:
Spit in the Bucket
Cheese Rolling
Wet Rag on a Stick dance
Turnip Toss
Hopping Tag
Best Peasant story/poem/song
Sheep herding/wrangling/stealing
Flag painting
And more!
Wear your peasant garb for playing active games or to take part in the peasant pastimes, and leave the upper-class accessories at home.
Bring your blanket or chair to sit upon, your cup, bowl, and spoon, a midday snack and picnic beverage. Bring water.
There is no site fee. A simple peasant meal will be available for dinner around 5ish.
Setup begins at 11am, rain or shine; the games commence at noon. Event Steward: Edward the Stuffy
Event email: cheese@baronyofmadrone.net
Alcohol is prohibited as the site is a public park.
The most relaxed event of the year – don't miss out — We hope to see many happy peasants there!
Site: David Rodgers Park, 2800 1st Ave W, Seattle, WA 98119 (Corner of 1st Ave. West and W. Raye St.)
Directions: From I-5: exit at Mercer St.
Proceed about ½ mile, turn right onto Westlake.
Lake Union should be on your right.
Follow Westlake Ave. around the lake until it turns into Nickerson, stay straight on Nickerson in one of two left lanes; do not turn right across the Fremont Bridge. At the next intersection turn left onto Florentia St.
Go about six blocks, turn left at 1st Ave W. and proceed uphill 4 blocks.
The park is on your right as your crest the hill at W. Raye St.