Hosted By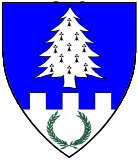 The Shire of Tymberhavene (Coos & Curry Counties, OR )
Event Summary:
Date: June 7 , 2019 until June, 9 2019
Site opens at: 3:00 PM on June 7th 2019
Site closes at: 3:00 PM on June 9th 2019
Event site:
West LaVerne County Park NSA Coquille, OR 97423
Click here for more information about this location such as site amenities, rules, and restrictions.
---
War in the Trees is a preparatory event for An Tir West War in beautiful Tymberhavene.
The focus of War in the Trees is war unit tactics, including broken field and woods battles.  There will be workshops for war support as well, from keeping your fighter hydrated to weapon and Shield construction.  More details later as we get them nailed down!
Activities will include the Tymberhavene A&S Championship (1 Useful Object), War Unit Tactics, Rapier / Cut And Thrust (They go to war too!), and classes.
TherewillalsobetheTymberhaveneFriday Night Soup and Bread Dinner (After 6PM).
Directions to Site 
From Adiantum/North – take your best route to I-5, take I-5 South to exit 119 (SR-42) 
From Roseburg/South – take your best route to I-5, take I-5 North to exit 119 (SR-42) 
The Following Directions are the same from either the North or South direction: 
Take SR-42 to Coquille, Oregon. Turn Right on East 2nd Street (One block past Coquille's only traffic light). There will be signs for the SCA and LaVerne Park. Go Straight, pass the 4 way stop and pass the 4 way flashing stop and continue forward through the traffic light (ok so coquille has more than one light but only one on SR-42). Take the first right hand turn past the traffic signal. This will be Coquille Fairview Road. Follow this road for 14 miles to LaVerne Park. The roads will be well marked with SCA signs. 
Please note that Coquille is the last reasonably priced gas/grocery stop. There is a convenience store with gas and groceries 5 miles before you reach the site.