Hosted By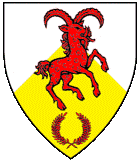 The Shire of Danescombe (Penticton and Kelowna B.C. )
Event Summary:
Date: April 20 , 2019
Site opens at: 7:00 AM on April 20th 2019
Site closes at: 5:00 PM on
Event site:
Penticton United Church 696 Main St Penticton, BC V2A 5C8
Click here for more information about this location such as site amenities, rules, and restrictions.
---
The Shire of Danescombe would like to invite you to join us at our annual Tournament of Roses where the Inspirations truly win the day!
There will be Rapier and Armored Defender Tournaments as well as an A&S and a Bardic Tournaments.
The Shire will have a free lunch for all in attendance so you can stay and enjoy the day with friends and family.
Rapier and Armoured Tournament – Bring your Inspirations and your Weapons!! Tournament Formats Yet To Be Determined.
A&S Competition – "A Rose in Any Medium" inspire us with with your artistry!  Judging will take place throughout the day until 3:00pm.
Bardic Competition –  Bards, Dancers and Entertainers…prepare to amaze us with your talent to become the next Danescombe Bardic Defender.
We await to greet you all!