Hosted By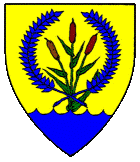 The Shire of River's Bend (Kelso & Longview, Cowlitz County, WA)
Event Summary:
Date: April 6 , 2019
Site opens at: 9:00 AM on April 6th 2019
Site closes at: 10:00 PM on
Event site:
Longview First Christian Church 2000 Kessler Blvd Longview, WA 98632
Click here for more information about this location such as site amenities, rules, and restrictions.
---
Come join the Shire in Celebrating the Return of the Light!! The long dark days of winter are reluctantly giving way to Light, flowers and the rebirth of the land. Let us join together in the joyous welcoming!!
There will be classes, thrown weapons (weather permitting), indoor darts, music, bardic, children's activities, and more! Table games, a place to share the project you are working on.
The usual wonderful soup and desert lunch for the mere cost of $4. Dinner will be potluck. The traditional sublety contest judged by those present, will be once again a challenge for your imagination. Prizes!
More information on classes and more will follow as they become available.
Please contact the Event Steward if you would like to teach a class or merchant!!
Classes:We have added 3 classes so far!!   Beginning Assisi, Needle Felting, Personna development. More details to follow!!