Event Steward: THL Ekaterina Kazimirova
Hosted By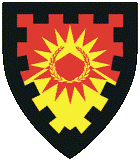 The Barony of Vulcanfeldt (Yakima County, WA)
Event Summary:
Date: April 5 , 2019 until April, 7 2019
Site opens at: 12:00 AM on April 5th 2019
Site closes at: 11:59 PM on April 7th 2019
---
IMPORTANT FIRE INFORMATION: Please note that no wood fires are allowed – only propane fires are allowed.
The Final schedule is posted on the Facebook event page. My apologies for not posting it here, but I was having update issues!    In Service, Kat
Unto the Populace of the Great An Tir does the Barony of Vulcanfeldt send its greetings!
Spring is here, and with it comes Baroness' War! Come and earn war points in many different categories and choose which side you fight for. There will be heavy fighting, rapier, cut & thrust (new this year), target archery, field archery, thrown weapons, equestrian, and siege cooking competitions for you to use your skills at. There will also be jousting! This year, we are starting a new competition, Team Scribal Challenge! Please watch for more details on this new 4 person event that will require each team to create an original scroll in just one day!
We are at a new site this year, the Grandview Country Park located at 812 Wallace Way, Grandview, WA. This is a lovely park with lots of space, trees, toys for kids, and indoor meeting spaces. The site is located within Grandview city limits, so there is a quiet time of 10:00 PM, and it is VERY DISCREETLY WET – within your own encampment, in a period container please.

Their Royal Majesties will be in attendance this year, and we look forward to the honor of hosting them at our event! With Their Presence, there will be an opportunity for peerage meetings, so please be sure and check with your Order if you are required to attend as we would hate for you to miss out!
Registration Information
Land Reservations including RV space, Eric Space and General Camping, please contact our Land Steward, Theron, at glimmerman23@hotmail.com
Please note that Eric Space is reserved for Baronial Pavilions first.
RV spots do not have hook-ups
General camping reservations will be clearly marked within the camping area. After that, it is find your own spot! Get your reservations in fast!
Site Fees
Fee Type
Cost*
Adults (18 & Up)
$20
Day Trip Only
$15
Children (17 & Under with paid Adult)
Free
*SCA Members will receive a $5 member discount off the cost listed above.
Event Schedule
Time
Activity
Location
Friday, April 5th – Noon
Gate Opens!
 
10:00 PM
Quiet Time
 
Midnight
Gate Closes for the night
 
 
 
 
Saturday, April 6th – 8 AM
Gate Re-opens
Main Entrance
9 AM – 10 AM
Thrown Weapons Marshalling Class
Thrown Weapons Range
9 AM – 4 PM
Archery Target Shoot Begins (Suspends for Court)
Archery Range
9 AM – 3 PM
Iron Scribe Competition
Building behind covered picnic area
10 AM
Opening Court
Vulkanfeldt Pavilion
 
*Armour inspection begins immediately following Court
War Field
11 AM
War Begins!
War Field
 
*Pelican Council
4-H Display Barn
 
*Heavy Scenarios until 2 or 3 PM
War Field
 
*A & S Competition Begins
Wealdsmere Pavilion
 
*Equestrian Competitions
Grandstands and Arena
 
*YAFA Scribal Calligraphy Class for Youth with Baroness Kara
Covered Picnic Area
Noon
Cut & Thrust War Point Tourney
Near War Field
 
*Siege Cooking Competition Begins
Meet at Vulkanfeldt's Pavilion for Instructions
 
*Medieval Embroidery Class with Baroness Sigrun & HL Fredys
Covered Picnic Area
1 PM
Persian Buttons Class with Baroness Zahra
Covered Picnic Area
 
Block Printing Class with THL Ionamyst
Covered Picnic Area
1:30 PM
Field Archery Competition
Archery Range
2 PM
Thrown Weapons Competition
Thrown Weapons Range
 
*Leather Cup Holder Making with Rothais Maille SiGar
Covered Picnic Area
 
*Rapier War Scenario Competition
Near War Field
2:30 PM m- 3:30 PM
Baroness' Tea
Vulkanfeldt Pavilion
 
Unicorn Tea
Wealdsmere Pavilion adjacent to Vulkianfeldt
3 PM
Gate Closes
 
3:30 PM
Knight's Council
4-H Display Barn
5 PM
Evening Court
Vulkanfeldt Pavilion or Amphitheatre – TBD
6 PM – Or Following Court
Potluck Feast in Honor of Their Royal Majesties
Amphitheatre
7:30 PM
Bardic Gathering
Amphitheatre
8 PM
Vulkanfeldt Bardic Champion Competition
Amphitheatre
10:00 PM – 6 AM
Quiet Time
 
Sunday, April 7th
 
 
8:45 AM
YAC Armour Inspection
War Field
9 AM
Court for Tournament of Champions
War Field
9:30 AM
YAC Tournament
War Field
10 AM
Tournament of Champions
War Field
 

To be conducted in the following order:

*Heavy

*Rapier

*Cut & Thrust

*Archery – Archery Range

*Thrown Weapons – Thrown Range

 
1 PM
Closing Court
Vulkanfeldt Pavilion
3 PM
Site Closes
 
Meal Information
Saturday evening their will be a potluck feast in the main hall (4-H Display Barn) in honor of Their Royal Majesties. Please bring a dish that will generously serve at least 10 people, in accordance with the list below and your mundane last name:
A-H Please bring a main dish          I-P Please bring a side dish or salad         Q-Z Please bring a dessert
The feast is scheduled for 6 PM, but this of course is dependent upon when evening Court has finished.
Tournament Information
As usual, on Sunday, each Baroness will choose two combatants to be their champions in each of the following fields: Heavy, Rapier, Cut & Thrust, Archery & Thrown Weapons. Each combatant will then vie for their Baroness in the Tournament of Champions. Tournaments will begin following Court and Armour Inspection. Please see site copy or your Baroness for more details!
Youth and Family Activities
Once again, Her Excellency, Baroness Kara will be hosting the Unicorn Tea for the children who come to the event. Please see site copy for full information!
This year we are including competitions that will allow our younger attendees to earn points for their Baroness! These activities include:
Coloring Page competition
Scavenger Hunt
Game of the Goose Tournament
Please see site copy for location and times of these activities!
Volunteer Information
We are always grateful for our volunteers! This year we will be offering war points in relation to hours volunteered. The Barony with the largest number of hours volunteered will receive additional War Points! Do your part to win the War for your Baroness!
Work at Gate, Water bear, teach a class, run some YAFA activities, and any other ways to volunteer you can think of! Be sure to pick up a volunteer card at Gate to track your hours!
Merchant Information
The following Merchants will be at War this year:
Awkward Ferret
Burnt Village Wares
Fa'el's Forge
Norse Gypsy Forge
Magda's
Ocean's Jewelry
Red Wolf Limited
Wolf Song Wares
If you are interested in Merchanting, please contact our Merchant Steward , Lady Lucia Robertsdottir at hapermommy@gmail.com!
Classes Offered
We are still looking for teachers! Do you have a skill you would like to share? Contact our Class Coordinator, Mistress Fiona at fionafionared@yahoo.com to sign up!
YAFA Scribal – Calligraphy Class for Youth Taught by Baroness Kara Bjornsdottir – Time & Place to be determined
Persian Button Making with Baroness Zahra
Medieval Embroidery with Baroness Sigrun & HL Fredys
Leather Cup Holder Making with Rothais Mille SiGar
Block Printing with THL Ionamyst
---
This page was last updated: April 1, 2019
This event has completed its EIF form
This event's waivers have NOT been marked as received by the Senechal's Waivers Deputy