Event Steward: Aine Inghean ui Sithigh
Hosted By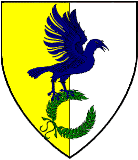 The Shire of Corvaria (Bend, Jefferson, Deschutes, & Crook Counties, OR )
Event Summary:
Date: March 15 , 2019 until March, 17 2019
Site opens at: 3:00 PM on March 15th 2019
Site closes at: 1:00 PM on March 17th 2019
Event site:
Jefferson County Fair Complex OR 430 SW Fairgrounds Road Madras, OR 97741
Click here for more information about this location such as site amenities, rules, and restrictions.
---
Event website:http://corvaria.antir.sca.org/wp/summits-spring-coronet-2019/
Hear ye Hear ye, The Shire of Corvaria cordially invites you to Summits Spring Coronet March 15-17th AS 53. This is the tournament to find heirs to the Gryphon thrones. The event will be held at the Jefferson County Fairgrounds, Madras, OR.  There will also be the Tournament for Captain of Tigers. Come and fight or watch as the best fighters vie for the honor to be the next to reign! You can also the take classes, shop, catch up with friends old and new, and look at the displays of the Arts and Sciences! 
There will be sleeping available on site or there are a block of 10 rooms (5 double, 5 single)available (and depending on needs we may be able to add to it) at the Inn at Cross Keys Station just down the Street! You can call  541-475-5800.  The rooms are saved under SCA. We have 5 king and 5 Queen. The rooms with Queens, are Double Queens for $103.49 plus tax/fees and the Single Kings are $92.69 plus tax/fees. 
Saturday Night we will have a potluck feast! 
More to come as the date comes nearer! 
We look forward to seeing all in attendance! 
Registration Information
On site we do have limited indoor sleep space. If you're interested I will reserve spots. Please email renfairgal79@gmail.com if you are interested in reserving sleeping space on site!
Site Fees
Fee Type
Cost*
Site Fee
$25.00
 
 
 
 
*SCA Members will receive a $5 member discount off the cost listed above.
Event Schedule
| | | |
| --- | --- | --- |
| Time | Activity | Location |
| Friday March 15th |   |   |
| 3pm  | Site Opens |   |
| Saturday March 16th |   |   |
| 7:45 am | Site opens |   |
| 8:00 – 8:45 am | Pelicans Meeting | Viking A Frame |
| 8:30-9:00 am | List Opens for Coronet | Arena |
| 8:45-9:15 am | Gray Goose Meeting | Viking A Frame |
| 9:30-10:30 am | Opening Court – Invocation of the lists for Coronet | Arena |
| 10:45 am | Coronet Tournament begins | Arena |
| 11:00-5:45 | Youth and Family Achievement (YAFA) Activities | Arena |
| 11:00-4:00 | Largesse "Quick and Dirty" Competition | Arena |
| 11:30 | Class – Mongolian Hats | Arena |
| 11:45-3:00 | Iron Scribe Competition | Arena |
| 1:00-2:00 | Class- 8 Period Embroidery Stitches | Great Hall |
| 2:00-2:45(ish) | Chivalry Meeting (15 minutes after Coronet Tourney) | Viking A Frame |
| 2:00-2:45  | Lists Open for Captain of Tigers | Arena |
| 3:00-3:30 | Invocation of the lists for Captain of Tigers |  Arena |
| 3:45-5:45 | Captain of Tigers Tournament | Arena |
| 4:00-4:45 | Valourous Estates Meeting | Viking A Frame |
| 6:00-7:15 | Court | Great Hall |
| 7:15 | Prep and have Potluck Feast | Great Hall |
| 8:00-8:45 | Masters of Defense Meeting | Viking A Frame |
| 9:00 | Populace Price Bardic | Great Hall |
| Sunday March 17th |   | |
| 9-10:30 | Moot/Curia |   |
| 10:30-Finished | Clean up site. | |
| 12:00/Noon | Site Closes for those not helping clean | |
Meal Information
Edit: Unfortunately a food truck will not be on site, they unfortunately had to back out. Please bring coolers with your food, Site copy will also have a few local restaurants and distance to restaurants
Saturday Night we will have a potluck feast! 
 Please bring your potluck feast goodies by Modern Last Name
A-H- Sides
I-R – Meat Dish
S-Z – Fruit/Vegetable
Desserts and Subtleties are always welcome, there's usually many of these… so please feel free to bring one if you wish. 
Lists of ingredients for your dish is always appreciated!!
Tournament Information
For the Coronet Tournament:
Please read for the tournament details; both Coronet and Captain of Tigers to be held at Spring Coronet, March 16th
On behalf of Prince Njal, the Coronet tournament:
Our heirs will be chosen in accordance with Corpora, Kingdom and Summits law as follows: We request all entrants submit a letter of intent, post dated no later than two weeks (14 days) prior to the tournament (March 1st). Please submit all letters to ourselves at SummitsCoronet@antir.org, and cc the Summits Seneschal at SummitsSeneschal@antir.org.
Double elimination tournament. No limitations on weapon styles, however, length is limited to 6 feet. Shields are to be tournament appropriate. There will be a mandatory "Round Zero" warm up before the tournament. Bring your best!
Residence limitations are in effect and exceptions will be considered on a case-by-case basis. The populace of the Shire of Mountain Edge are considered to have met the residence requirement if they have lived in Mountain Edge for the requisite period of time.
On behalf of the current champion Victor De Guers:
In order to promote attention to every fight, this tournament shall be heavily weighted towards the clean fighter.
Fighters shall line up by rank and process in. Their Highnesses shall split the fighters into 2 lines. 
Lowest order of precedence picks first.
Tournament shall start with a non-destructive challenge round. Winners of the challenge round shall be paired against the losers and progress into a standard double elimination tournament.
Clean fighters shall fight fighters with a loss until that is no longer possible. Likewise, clean fighters have priority in fighting the bye-fighter; only once all the clean fighters have fought the by shall losing fighters get a bye.
Youth and Family Activities
11:00-5:45 – Arena- Youth and Family Achievement (YAFA) Activities– heraldry, embroidery, sewing, scribal, calligraphy, games, arms and armor, medieval service dogs and what they did. 
Volunteer Information
We will need volunteers for gate, water bearing with snacks, clean up, Chatelaine Corner, Heralding and more! Lots of opportunities to volunteer! Sign up forms on Facebook event and Principality of the Summits Discussion page. The person with the most hours will get a prize, as will the Branch who volunteers the most hours will receive the banner for volunteering to hold onto until the next event it's requested for. Sign up on site too. 
Merchant Information
Redwolf Ltd -Looking for the perfect piece of jewelry to accent your faire garb or con attire? Look no further! Redwolf Limited provides beautiful jewelry at reasonable prices and has for twenty-five years. You won't find things like this just anywhere.
HMArtistic Creations – Prints, cards, originals, handmade buttons, and soap will be at the booth. The amazing artisan has moved to Oregon in the past year from Texas. Their eye for detail is outstanding and their creations unique. First time vendor for an SCA event. 
Phoenixx Factor Designs – Wire wrapped Bohemian Inspired Jewelry and Accessories enchanted by princesses, fairies, bohemian and gypsy lifestyles, and the inspirational ages of the past that revered craftsmanship in their architecture, jewelry, and lifestyles. Therein also resides a love of science fiction and fantasy, cosplay, steampunk, and almost any century in the Renaissance. First time vendor for an SCA event. 
Julia- handmade hats created with felt and fur. 
Classes Offered
11:00 – 4:00- Arena-Largesse "Quick and Dirty" Competition Workshop- HL Milisandia filia Willelmi filli Roberti- The rules are simple: you show up and make an item of largesse entirely on-site. Milisandia will bring a variety of supplies and tools, but you will need to supply the creativity and skill. You are welcome to bring your own supplies and tools to work with, but the project must be started and completed that day. There will be a table for you to work at, or you can take your project with you to work on while participating in other aspects of the event! Entries will be due by 4:00 pm so that the populace has time to vote for their favorite before court. Each item will be judged as separate items. Every entrant will receive a small token of appreciation, and the winner will receive a small prize.
11:30- Arena-Class- Mongolian Hats – Solbella haTayeret – Solbella to provide materials.
11:45-3- Arena- Iron Scribe – Her Ladyship Duvessa of Movilla is running this: Iron scribe a challenge to all scribes to start and finish an item at coronet. Notecards will be painted and are all the same and they are being provided. The theme is Blue. Pick up a blank and turn in by the finishing time. The items will be judged and the winners will receive a prize.  *Adult Rules: note cards must be painted with blue paint only. 2 Blues will be provided as well as white and black. You must only paint with hues of the two blues provided…(if you have paint you prefer the colors are Ultramarine Blue and Cerulean Blue, plus white and black for making your hues)*Youth Rules – you must incorporate blue somewhere in your painting of the notecard
1:00- Great Hall-Class – 8 Period Embroidery Stitches -Mistress Melisande de Frayne- She will have 10 sets of materials for this class. First come first served.
9:00– Great Hall -Populace Prize Bardic– Current Summits Bard Cardinal Antonius Rath to organize/host- includes donated prizes
---
This page was last updated: March 9, 2019
This event has completed its EIF form
This event's waivers have NOT been marked as received by the Senechal's Waivers Deputy