Hosted By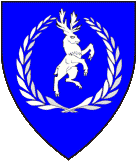 The Canton of Silverhart (Kootenai County, ID); A canton of the Barony of Wealdsmere
Event Summary:
Date: February 23 , 2019
Site opens at: 12:00 AM on February 23th 2019
Site closes at: 11:59 PM on
Event site:
Lake City Center 1916 N Lakewood Drive Coeur d'Alene, ID 83814
Click here for more information about this location such as site amenities, rules, and restrictions.
---
Has the winter dragged on for what seems an eternity?
Wanting to get away and do something foolish and fun?
Come join us in the Canton of Silverhart on Feburary 23rd, for a day full of frivolity, fighting and foolages culminating with a fantastic feast! This year we are having two different A&S competitions: the return of the Faux Pas A&S, as well as a Sweet 6 Largesse Competition. The Sweet 6 is to help fill the largesse chest with future prizes and gifts for the kiddos. There will be Heavy figthing and a Rapier Tavern Brawl and tournament. Bring you coins! The Foolage Auction is back! This is your chance to have an hour with a Peer to create merriment and silliness, or just sit and chat! Please send your feast reservations to: Raven Morgenstern at ravenbecker@gmail.com…