Hosted By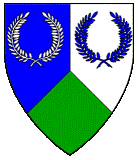 The Canton of Bearwood (East Snohomish county, WA )
Event Summary:
Date: February 16 , 2019
Site opens at: 12:00 AM on February 16th 2019
Site closes at: 12:00 AM on
Event site:
Masonic Hall, Snohomish 602 Avenue B Snohomish, WA 98290
Click here for more information about this location such as site amenities, rules, and restrictions.
---
Join the Canton of Bearwood for the annual Lunar New Year Tea celebration.
Celebrate the Lunar New Year!
The Spice Road through Northern India.
Site opens to cooks at Noon.
Site opens to Guests at 3:00pm
Feast will start at 6:00pm
MENU so far: hot and sour soup; curried veggies; rose pudding; almond gelatin; plain basmati rice; arabic jeweled rice; rice wrappers with dipping sauce; soba lo mein; Beef with 3 veggies; 3 veggies w/o beef; "sushi" subtlety; basmati rice with raisins and almonds; steamed fish; BBQ pork; tangerines. Subject to change without notice!